Once you are clear on which type of [tag]motorhome[/tag] you need you have to decide how you will purchase it. Here are some of the options you have.
BUY NEW:
This is by far the best option if your finances will allow it. Every year more luxurious and more comfortable models are produced with better accessories and fittings. They are extremely high priced but well worth it if you can afford it. Most of the dealerships can offer a selection of good financing options with comfortable monthly payments.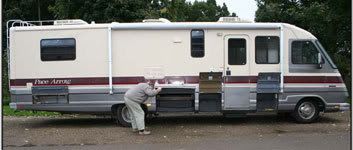 PRIVATE SALES:
You can often get some pretty good deals when buying from a private seller. You can find adverts in the motorhome magazines, or online at a selection of RV CLASSIFIEDS sites dedicated to putting buyers in touch with sellers. Great care should be taken if you are considering buying your motorhome in a private deal. Take an experienced mechanic with you and if possible an experienced RVer too as an extra set of eyes, eyes that are less likely to get clouded with the enthusiasm and emotion that creeps in at the prospect of obtaining a beautiful new motorhome. Make notes as you check over the vehicle and make a list of modifications or repairs that need to be done. Use your notes later on at the time of negotiating the final price.
[tag]POLICE AUCTIONS[/tag] – [tag]SEIZED AUCTIONS[/tag]:
Organized by the government these auctions are held regularly across the US where seized, repossessed and confiscated vehicles are sold off to the public at extremely low prices. You can often find hardly used RVs in extremely good condition with very low mileage. Bidding typically starts at around the $100 mark and there are times when you can get real bargains with motorhomes being sold for a fraction of what they are worth. There are times however when the bidding get insane and the price is raised up to and beyond the going rate for that particular vehicle. Great care needs to be taken when buying from any auction and you really need to know exactly what you are doing or you could end up purchasing a vehicle that isn't worth what you paid for it. I will be covering some of the things to look out for in the next post.
Regularly updated information and details about when and where these police auctions will be held along with information on the vehicles that will be up for sale can be found at the web sites Seized Vehicle Auctions and Auction Pass.
[tag]USED MOTORHOME[/tag] DEALERSHIP:
If you are buying your first motorhome or have little experince then this is by far the best way to get a decent used RV. Most dealerships carry a wide range of vehicles of all classes. If you purchase from a reputable dealer you will get that little bit more sevurity and peace of mind as most will offer some sort of guarantee and also have their reputation to consider too..
Another positive point about buying from a dealer is that you will be offered a selection of finance plans which are unavailable if you choose to buy in a private sale or at an auction. The prices of the RVs at a dealership are somewhat elevated in comparison to private sales due to their overheads. In most cases the extra cost is well worth it. Even though a dealership might have a good reputation you should still be just as diligent and as thourough when looking over the vehicles as you whould when buying in a private deal or at an auction.
When interacting with a dealer you need to give them as much information as possible in order for them to offer you what you need. Tell them the type or RV you are looking for and tell them how you plan to use it. A well trained salesperson should be able to show you a selection of vehicles appropriate to your needs. Feel free to ask questions about construction of the coaches, whty they are made this way or that and what one brand and model has to offer over another.
Some dealers are affiliated with one or two specific brands and deal soley with them. This can be an advantage as the dealers will have undergone specialized training and the dealership will have access to original spare parts and service departments. If you are looking for a wider choice however you will be better off by using a general purpose dealer.
Here are a few more ideas on buying motorhomes:
Interesting article on used motorhomes
Getting the Most Out of a Used Motor Home Sale
Some useful advice on choosing your motorhome
How to Pick RV's & Pop-Up Campers
Advice on some of the different ways Motorhomes can be sold
Steps For Selling Used RVs
Of course you could always build your own as set out by
Converting a School Bus into a Motor Home
RV and motorhome financing explained here
RV Camper Financing, Low Rate Interest Is Affordable
[tags]RV, Motorhomes[/tags]