In contrast to the monster motorhome in the last post, I have come across this one at the other end of the scale.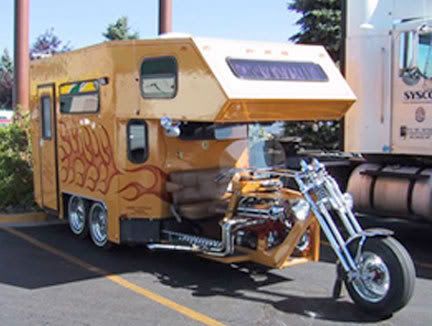 This 5 wheel motorcycle RV was originally featured on a family blog but the source is no longer available so there is very little information available. It is however featured on the following websites:
Motorcycle Motorhome – Well, that's no longer a problem with this crazy motorcycle motorhome which has the front end of a chopper and the back end of an RV. Of course the RV part has flames on the side so you can maintain your street cred with the biker set. …
Motorcycle motorhome – Customized motorcycle motorhome. This customized 5-wheeler was posted on the "Johnson Family Blog." No additional information was provided about the owner or who built this unique "fuel friendly" rig.