There are several different [tag]classes of motorhome[/tag] available to suit your needs, each has its own characteristics. Basically they can be split up and put into one of the following groups.
Class B Motorhomes:
The [tag]Class B Motorhome[/tag] or camper van is the most compact of the classes, it is little more than a converted van. Some can be quite luxurious and come fitted with bathroom, kitchen, TV and microwave but the norm is that they have just enough space to accommodate a sleeping area which doubles as a living space, a small cooking area and some storage space. These are great for short camping breaks, they are very easy to drive and maneuver with parking not presenting a problem. These vehicles can easily double as a second family vehicle when not being used for camping.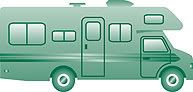 Class C Motorhomes:
[tag]Class C motorhomes[/tag] are the middle of the range class. They are coach built on top of a special chasis which is basically a truck chasis with the engine at the front. These can be quite a lot larger than the previous Class B motorhomes with lengths ranging from 20 to 40 feet. The more recent models all include slide outs that increase the living space and come with a bathroom, living area and bedroom, The driving area is connected to the living area is set lower down so passing from one to the other at times can be a little awkward. These vehicles are best suited to those who take frequent short breaks, Most have gas engines and are fairly economical to run. Parking is less of a problem than with the larger class A motorhomes.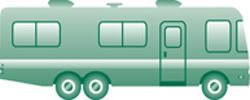 Class A Motorhomes:
[tag]Class A Motorhomes[/tag] are the real luxury vehicles. They have the appearance of a bus with a flat front and large front windows, the coachwork is built onto a special bus chasis and they can have a rear deisel engine (pushers) or a front engine gas or diesel (pullers). They are fully self contained coming with a separate bedroom, living area, kitchen with refrigerator and stove and oven, a dining area with table and chairs, a complete bathroom with shower and a spacous living area with sofa and armchairs. The driving area is integral and when parked the driver and passengers seats can be rotated to face into the vehicle to form part of the living room. The later models come with up to 4 slide outs in the lounge and the bedroom which greatly increase the interior space. These vehicles are very large and cannot be parked anywhere. They can be tricky to manouvr if you are not used to them. A little training is advised if you have never driven one before. In some countries special driving permits are required as the sheer size makes drivng them comparable to driving a bus. They can be diesel powered or gas powered.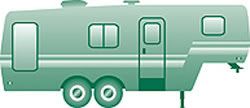 Fifth Wheel Trailers:
The [tag]5th wheel[/tag] trailor is just as luxurious inside as the typical Class A rig. They are self contained having a closed bedroom, bathroom with shower, kitchen and living room. They come in various sizes up to about 40 feet long. Most of them come with slide outs to increase living space. A Medium or heavy duty pickup truck is required to pull them which needs to have a special hitch fitted in the bed. The beauty of these is that once you are camped you can un-hitch the truck and use it independently without having to break camp. Ideal for those who want to camp in rural areas where the roads may not be very good and the 4 wheel drive of the truck can be engaged.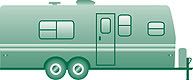 Standard Travel Trailer:
These are the most poular type of [tag]RV[/tag] to be sold today. They come in various sized from 10 to 40 feet long and can be pulled by most medium to large vehicles. Some of the larger models have slide outs, bedrooms, kitchens, bathrooms, dining and living rooms.

Toy Haulers:
These are a fairly new invention and are a variation of the standard travel trailer. [tag]Toy haulers[/tag] have a room usually at the back which is used as a garage to store anything from motorbikes to ATVs or even small mini cars. Some have folding beds which can be opened once camped and the vehicles have been removed. The rest of the rig is just like any other with bedroom, bathroom, kitchen and living room complete with slide outs.
3D Virtual Tour – This is in interesting 3d virtual tour of some of the different [tag-ice]classes of RV[/tag-ice] available.
Get To Know Your Way Around Researching Motorhomes Sales Online – Great general guide.
Al Qasr and Camel Safari – Includes a description of the 9 different types of RVs.
Tuscan Wine Tours In A Motorhome – an out of the ordinary vacation idea: renting a motorhome and touring Tuscan wineries
Take the kids on a motorhome holiday – NZ Motorhome rentals
[tags]camper van[/tags]