The last '[tag]Unusual Motorhome[/tag]' featured here was the huge Mercedes carrying Folkner Mobil.
Now to the other end of the scale completely we have this [tag]Nissan Micra Motorhome[/tag].
Note the electric 'Hook Up' at the front.
The Kitchen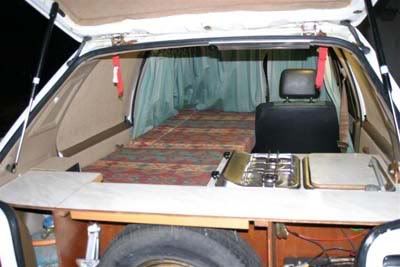 The Bedroom
The Dining Area
This is a wonderfully thought out and inventive one off vehicle – The small family RV. (i.e. family of one)
Thanks to My Local Motorhome Hire for putting me onto this.
The photographs are copyright James Harland.
There are a few more photos on James' Flicker album: http://www.flickr.com/photos/james-msc/sets/72157594198736850/
[tags]camper, camper van, rv, mototrhome[/tags]